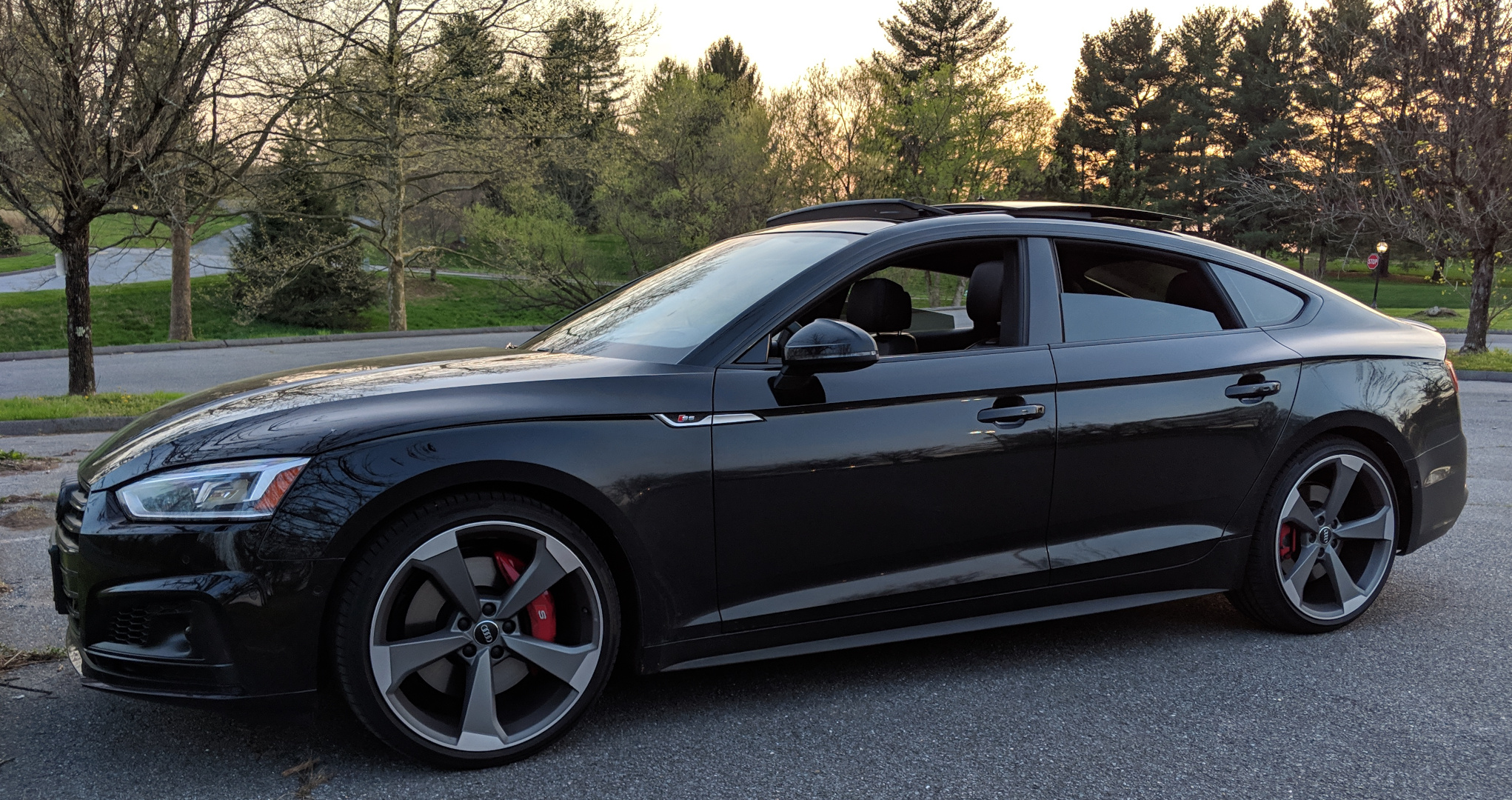 On February 5, 2019, I picked up my brand new Audi S5 Sportback!
I had been driving my old 2005 Acura TL for fourteen years, I thought it was time for an upgrade. I was getting tired of the old technology and the worry that my car may have an expensive problem at any time.
After about a year of research, I finally decided on an Audi A4. But after a series of events, I ended up buying the 2019 S5 Sportback.
Acura TL
I had been driving a 1992 Honda Prelude for about 11 years (not purchased new), when, in April 2005, someone rear-ended me, totalling the Prelude. It was a sad day -- I absolutely loved that car.
At that time, I would have wanted to transition to a BMW, but with life events going on, I couldn't afford that, so I bought an Acura TL. It black inside and out. And manual transmission. It was fun to drive, but not as fun as my manual Prelude was. But I enjoyed that car for many years. I bought a Bluetooth adapter that plugged into the XM Radio input so that I could stream music from my phone and really enjoyed the car.
I knew that many car companies were no longer making manual transmission cars and thought that my ability to get one when the TL actually died was not going to be good. So I started researching new cars.
Audi A4
In 2018, Audi's A4 was one of the last manual transmission luxury sports cars. I wanted all-wheel drive, nice technology, and Android Auto. That meant no BMW, though I think they changed their stance on Android Auto since.
So I test drove an A4 and really liked it. And that was it: I was going to buy one. So I told the dealer that I wanted an all black, with black interior, Prestige model: manual transmission. He searched everywhere in the country: there was not one that met my specifications for sale anywhere. So I said, "That's OK, I'll wait until the 2019s come out and order a brand new manual transmission A4 next year" and the dealer agreed that was a good idea.
But then he called me a couple weeks later to tell me the news: Audi announced that no 2019 vehicles would be made with manual transmission. I was devastated. But after a few days, I decided on a compromise: I'd get an automatic, but I'd get an upgrade that made it more fun to drive.
Audi S4
I went to the dealership and ordered an all black Audi S4 Prestige with all of the bells and whistles (Black optic package, warm weather package, S sport package, Dynamic steering). I was excited.
Until one day I was driving along (in my TL) and saw an S4 drive by and was underwhelmed. The S4 looked to me like an old man car. Boring lines and it didn't look exciting.
So I went back to Audi's website to look at my options and took a long, hard look at the S5 Sportback. A friend had purchased an A5 Sportback and I liked it a lot. So I sent a couple days looking at pictures of the S5 Sportback online. I watched a bunch of reviews on Youtube.
That was it!
Audi S5 Sportback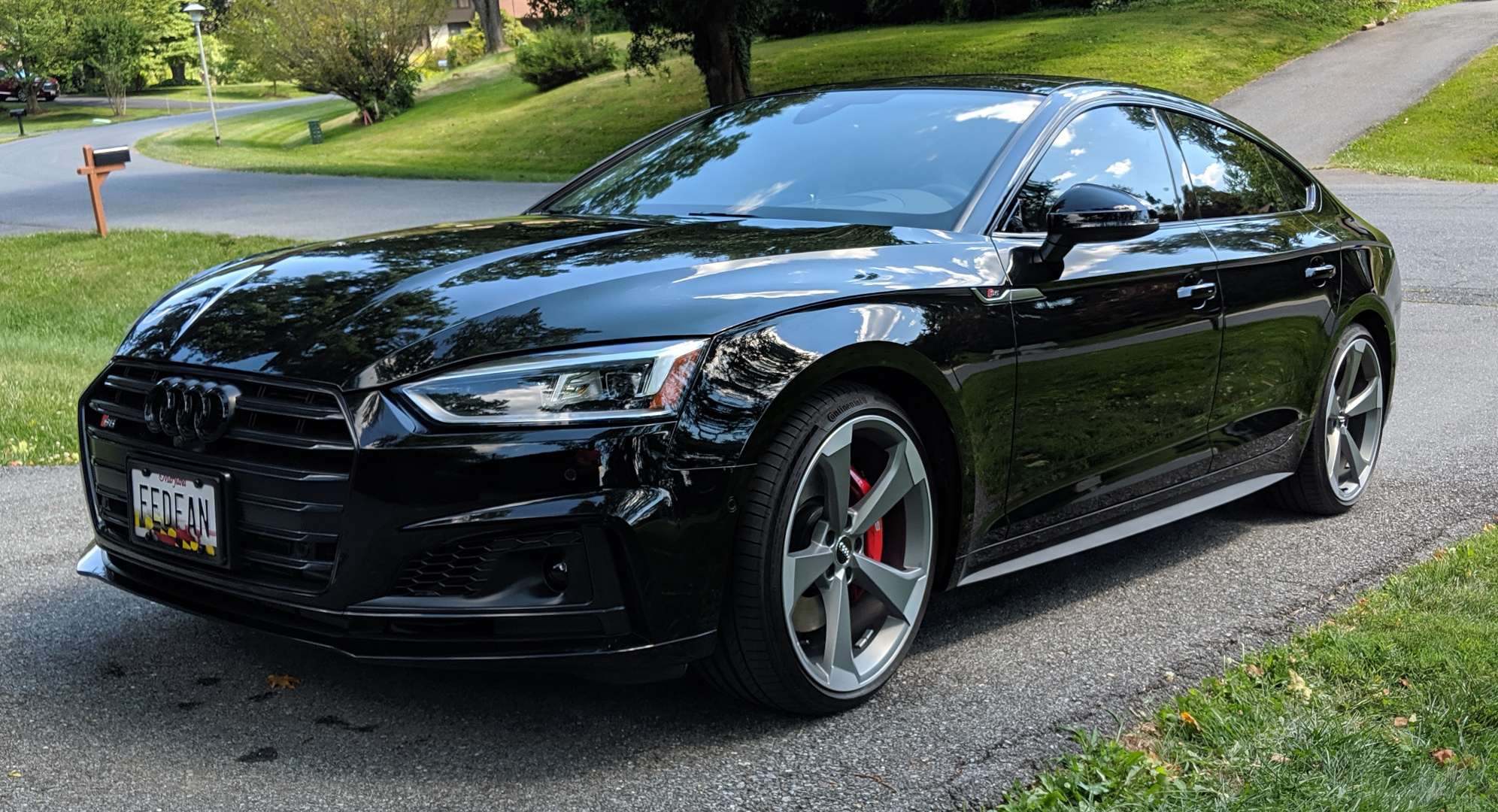 I called the dealer and said, "I need to change my order -- is it too late?" At first he responded, "Yes. It's too late", but then said that it was his first priority to make sure I'm happy and said that even though it would delay my new car by up to a month or so, he could change my order.
So I got all the same stuff as I ordered for the S4, but for the S5 Sportback:
Prestige
Mythos Black Metallic
Black optic package (with the 20" premium wheels)
Audi Sport Seats, black with grey stitching
Warm weather package (ventilated front seats)
S Sport package
Dynamic Steering
It took FOREVER to get here. It was built in Hungary and Germany and shipped on a boat to the US. There were delays in starting manufacturing that day and there were further delays due to Trumps import tariffs. It was supposed to arrive in the US in November 2018, but actually got here in late January. I was able to pick it up in the beginning of February and have been in love ever since.
This car is so special that, after spending about 5 minutes total in it, my brother bought almost the identical car: just in grey instead of black. And he loves his almost as much as I love mine!
After driving the car for almost 3 years now, I can safely say:
I do not miss driving stick (not because I hated stick, but because I LOVE this car)
Every time I get out of this car, I look back while I'm walking away to admire it
I have a whole gallery of pictures of my car.